Kady Romagnuolo

Sales Representative

RE/MAX rouge river realty LTD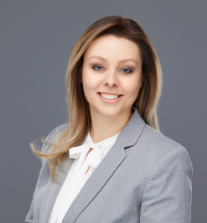 Welcome to a unique approach to home buying and selling. Since starting my real estate career in 2008 I have developed a vast amount of experience in selling all types of properties. This has included residential, condominiums, waterfront, rural and vacant land. My style is warm and approachable while striving to help clients make an informed decision, without high-pressure sales tactics. Constantly looking for new ways to give you the upper hand, I value hard work, persistence, and the ability to think out of the box. I am dedicated to helping clients buy the home of their dreams when it seemed out of reach, and not leaving any money on the table when you sell. Your success is achieved with a well prepared plan specific to your needs. I do not leave anything to chance! Ongoing training and reinforcement of crucial skills plays a major role in my success. I am an Accredited Buyer Representative and Seller Representative Specialist, who is an NLP trained Master Practitioner and Coach utilizing advanced negotiating techniques.
Kady Romagnuolo
Sales Representative
RE/MAX rouge river realty LTD
220-2377 Highway 2 Bowmanville L1C 5A4
| Residential | Buyer Agent | Seller Agent |