Kristyna Tsoy

Real Estate Associate

R.D. Nathan Real Estate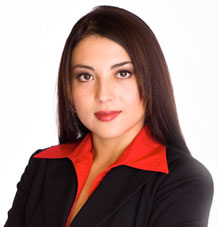 University educated with a Bachelors of Arts Degree, I am fluent in four foreign languages. Before settling in Edmonton, and subsequently becoming an Edmonton Realtor, I have called many places home. I empathize with my clients, knowing both how stressful and exciting moving into a new home can be. As your Edmonton Real Estate Agent, I will be there to assist and support you ensuring the process runs smoothly. Having a few years of teaching experience, I am patient in taking the time to explain every last detail involved in buying or selling a home. This could be especially beneficial to first-time buyers as there are a lot of aspects and nuances to buying a home. I stay ahead of other Edmonton Real Estate Agents by being knowledgeable, efficient and always treating my clients with utmost respect and understanding. Your satisfaction is my top priority!

Kristyna Tsoy
Real Estate Associate
R.D. Nathan Real Estate
129 - 625 Parsons Road SW, Edmonton, AB T6X 0N9
| Residential | Buyer Agent | Seller Agent |