Shannon Cutler

REALTOR®

Macdonald Realty Ltd.
My first introduction to real estate was in the 1980's when my dad started a small company in Prince George called Panda Homes; Panda Homes was intended to be a house flipping business. Yes, a house flipping business in the 80's. It tanked faster than the stock market of 1929. Nice try dad just 30 years too soon! I grew up in Prince George, BC, and after having enough run-ins with bears and -40 degree weather, I found my way to Victoria, BC. Victoria was home for 4 years while I attended UVIC, earning a degree in Psychology.. yes, I was jobless. I moved across the world to China to teach English where I braved monsoons, the Chinese version of street meat (frogs and snakes), and city buses which came at random times and stopped at random places. I cut my time in China short and moved to Regina, SK where I completed 6 months of RCMP training. Where was my first posting? Remember they could post me anywhere in Canada… it was Chetwynd, BC; 3 hours North of Prince George. I was back where I started, but bigger bears and more snow! To escape, I travelled to beautiful beaches and towns in Europe and Australia.. never quite finding what I was looking for. Four years later I found myself back where I wanted to be, Vancouver Island. I was posted to Nanaimo and then Parksville, where I spent the next 14 years, until my early retirement from the RCMP in 2018. No time for a mini-scooter for me… I have two young children, a dog, and a husband (who has a HGTV and renovation addiction). In all that time I lived in 15 different houses and apartments! Regardless of where I found myself in the world, I always returned to where I felt to be my true home… the sandy shores of Vancouver Island. No matter what stage of life you find yourself, I understand the importance of feeling connected to the place you call home. I look forward to working with you, your pets, your relatives and your families. RCMP, Canadian Armed Forces (CAF) & Government Relocation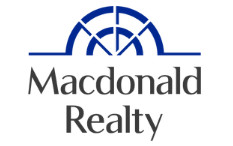 Shannon Cutler
REALTOR®
Macdonald Realty Ltd.
546 Island Highway West Parksville, BC V9P 1H2
| Residential | Buyer Agent | Seller Agent | Relocation |