Shirley Turner

Sales Representative

EXIT Realty Liftlock Brokerage
Shirley was born in Peterborough and is proud to call our community home. She has a deep understanding of the community, its businesses, schools and recreational opportunities. Shirley is keen to share the knowledge and experience she has gained living and working in the Peterborough area and promises to represent you with professionalism, timely communication and care. She has owned and operated a successful cottage rental business with properties throughout Ontario. This background has provided her with excellent insight into the intricacies of rural property ownership as well as recreational opportunities. With her knowledge of the marketplace and her previous experience in marketing, Shirley is well equipped to help you sell or purchase your new home! Shirley has worked with new Canadians establishing Peterborough as their home and is keen to help others call Peterborough home. She strongly believes in being charitable and strives to do this by supporting the New Canadians Centre, Diabetes Association, United Way and the Canadian Cancer Society.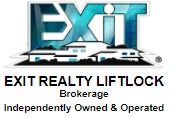 Shirley Turner
Sales Representative
EXIT Realty Liftlock Brokerage
850 Lansdowne Street W Peterborough , ON K9J 1Z6
| Residential | Buyer Agent | Seller Agent |