Aimee Wesson

Sales Representative

Rock Star Real Estate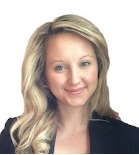 Aimee Wesson was told from a young age that if she was going to invest in anything, invest in real estate. She couldn't wait to finish university and follow her ambition of being in the great game of real estate! Her educational pursuits include IGCSE A-Level qualifications in Business, Economics and English Literature. In 2011, she moved to Canada to get her B.A. in Psychology from Brock University.
Aimee Wesson
Sales Representative
Rock Star Real Estate
165 Cross Avenue, Suite 6 Oakville, ON L6J 0A9